New series starts!
We launch new series to introduce our products for users.
We will divide up into several times and distribute it, so please visit our web site.
This time we would like to introduce our new product Micro Bubble Generator.
This machine is a new degassing mixer for aluminum molten treatment.
If aluminum molten contain impurities such as gas and oxide, it may occur quality problem for products which is made by the aluminum molten.
We made many improvements over years and finally succeeded to perform high degassing effect to remove impurities by Micro Bubble Generator.

Compared with conventional mixer,
1.Small Bubble Size
The bubble size which comes from the mixer is much smaller.
↓
Bubble stay in molten longer and absorb impurities and float to the molten surface.
↓
After removing the impurities on the surface, molten get clean and it leads less defect.
2. Easily Installation In Small Space
Because of the structure as above, you can install micro bubble generator in small space such as small furnace, LP furnace and gutter.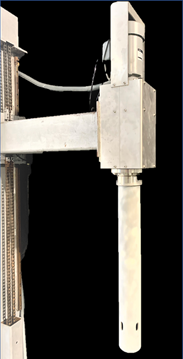 Next time, let us explain more about the operation of Micro Bubble Generator. If you have any questions and comment, please do not hesitate to contact us from contact form.